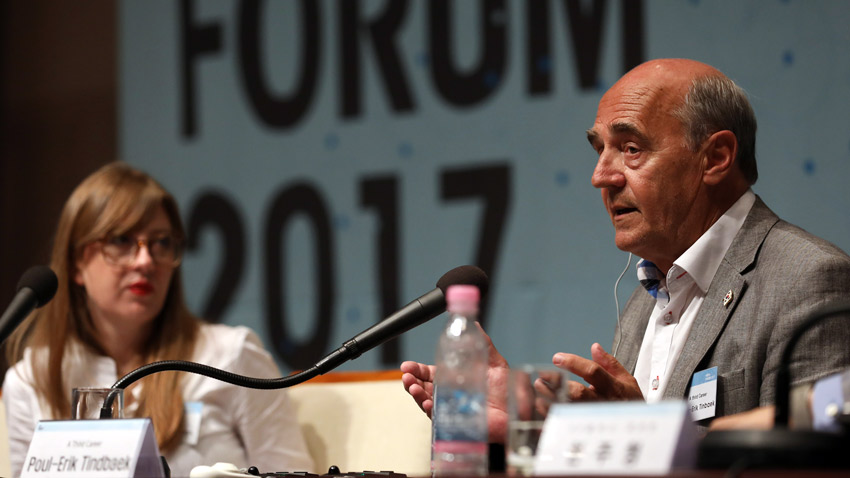 Under the theme of "50+Possibility through Learning and Sharing," the second Seoul 50+ International Forum 2017 was co-organized by the Seoul Metropolitan Government, Seoul 50 Plus Foundation and Encore Network from September 25th to 27th. In a program led by Ms. Kyunghee Rhee, Foundation CEO, more than 440 participants from government and local authorities, research institutes, private sector and civil societies participated. Mr. Wonsoon Park, mayor of Seoul Metropolitan Government, and Ms. Yangsook Park, Health and Social Affairs Committee Chair of Seoul Metropolitan Council extended their congratulatory remarks with their emphasis to continued support to 50+policy.
On September 25, Poul-Erik Tindbaek, founder of Denmark-based  En3Karriere conducted a Training-of-Trainers (ToT) Workshop on 50+Education for 50+Program Developers. The main event Seoul 50+International Forum 2017, which took place on September 26, consisted of opening session, two thematic sessions and closing plenary; and lastly on the 27th, a post-session offered a deep-dive on UK-based NESTA's 50+programs.
Read a summary prepared by Ms. Ayleen Jung, Project Manager, Policy Division,below and full details here.
Day 1      Training of Trainers Workshop on 50+Education for 50+Program Developers – Poul-Erik Tindbaek, En3Karierre The Workshop on 50+Education for 50+Program Developers, was held to share Mr. Poul-Erik Tindbaek's EU recognized pre-retirement workshop model to more than 40 staff members of the 50+foundation/campus/center and experts at the Seoul 50 Plus Central Campus.
In a 3-hour workshop, Mr. Poul-Erik Tindbaek introduced and facilitated frequent group discussions that allowed an organized response and personal reflection on participants to think about their own lifestyle, health, and personal goals for the future linking with post-retirement life planning.
Day 2      Seoul 50 +International Forum 2017 (Main Program)
Main program of the SFIF2017 focused on two main themes: designing the 2nd half of life through learning and education; and sustainable development through 50+generation's social participation. The forum invited international and Korean experts working with the 50+ generation from research, community, and organizational perspectives to share international and Korean case studies of programs and policies affecting the 50+. Encore.org Communications Vice President Ms. Marci Alboher provided welcoming remarks by video. Various perspectives were wrapped up at the Closing Plenary titled "Catalyzing a 50+Learning & Social Participation" by seeking ways of collaboration for the 50+.
Day 3      50+Program Introductory Session on UK's NESTA The post-session was held for further discussion on the social innovation 50+programs implemented by NESTA UK. Carrie Deacon, Senior Program Manager of NESTA, gave a presentation on 50+innovation programs, followed by a Q&A session participated by 50+partners.
Overall Outcome and Next Steps
Seoul 50+ Foundation should utilize knowledge and insight from the sessions to shape its programs and policies by further developing its funding infrastructure and assess which examples will be possible in the Korean context. In addition, the Foundation should increase its effort to develop a platform for international collaboration to share and learn from other 50+ partners around the world and leverage comparative advantages.
The Foundation should increase promotional and advocacy efforts to make sure the 50+ generation is taking advantage of the available opportunities.
For more information, contact Ayleen Jung, Project Manager, Policy Development Division
Published: November 8, 2017